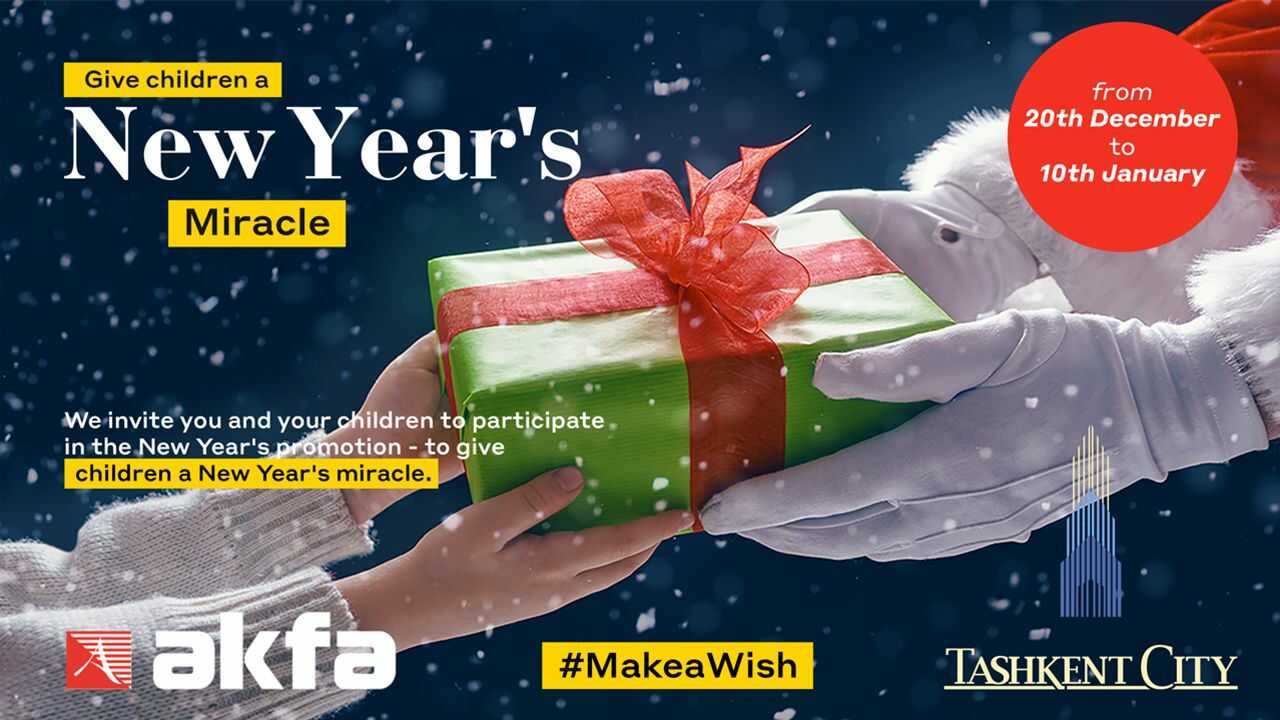 Akfa Group

20 december, 2020
Terms of the "Make a wish" promotion from the AKFA Group
Only citizens of the Republic of Uzbekistan and only children from 4 to 13 years old can participate in the New Year's campaign "Make a wish." The promotion period is from 20.12.20 to 10.01.21 inclusively. Santa will give the gifts to the most creative wishes Santa who have fulfilled all the requirements below.
To participate in the promotion:
1. Write a physical letter and put it in a special mailbox, which is located near the "Santa's Residence"
2. Write a detailed wish list and what kind of gift the child wants to receive from "Santa"
3. It is compulsory to indicate the name, surname, and age of the child on the envelope. Moreover, you need to specify the address and contact phone numbers of the parents(s) for feedback on the envelope.
- Letters containing incomplete information, and not meeting any of the above requirements are not allowed to participate in the promotion.
- The letter can be written in Russian, Uzbek, or English.
- Letters written by adults without the participation of children will not be considered.
- Participants have the right to leave only one letter during the entire promotion. In case of violation of this clause, the participant is automatically disqualified from the promotion and has no right to participate during the validity period.
The location of the mailboxes is:
"Tashkent city" park, landmark Planetarium, Shaykhantakhur district, Tashkent city.
- Letters brought directly to offices, sales departments, etc. of AKFA will not be considered.
- Letters from two or more children from one family should be in one envelope.
- Group letters from children sent in one envelope by school teachers, kindergarten teachers, etc., are not allowed to participate in the promotion (except for homes for the disabled, orphanages, and other organizations of a social nature).
The selection of winners and the presentation of gifts will be divided into 2 periods: 1st period - the first 10 winners of the competition will be determined on December 28, 2020. Period 2 - the last 10 winners of the competition will be determined on January 15, 2021.
The organizer reserves the right to change the place and time of the distribution of gifts.
The event will take place at the head office of AKFA Group at:
Tashkent City, Uchtepa district, Katta Khirmontepa street 1.
The number of gifts remains unchanged (20 pieces), but the subject of the gift remains at the discretion of the event organizer.
All news about the competition "Make a wish" will be published exclusively on the official pages of AKFA in social networks and on the company's website:
Website: akfagroup.com
Facebook: AkfaUzb
Facebook: akfabuild
Facebook: akfacomfort
Instagram: akfa_windows_and_doors
Instagram: akfa_build
Instagram: akfa_comfort
Telegram: t.me/akfagroupuzb
Phone for inquiries: 998 71 203 00 00
Back to the news