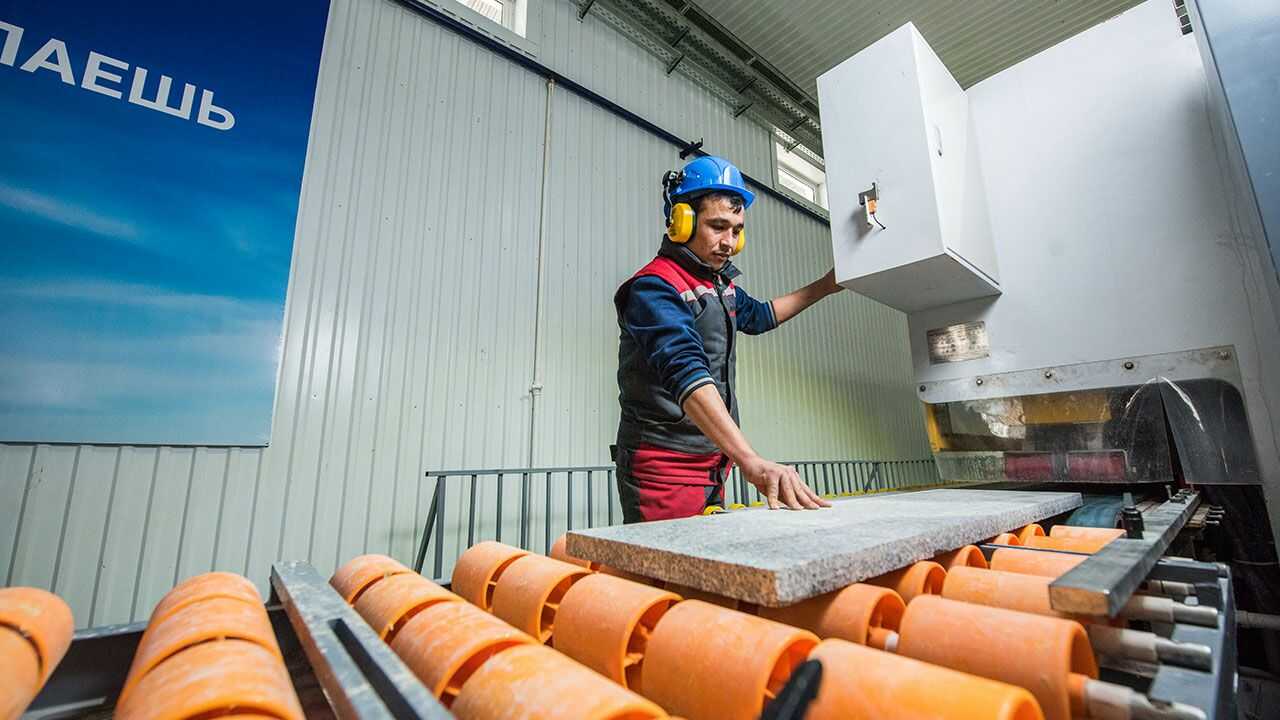 Akfa Group

13 JANUARY, 2020
The AKFA group of companies has opened a granite plant with own production, where it produces its own grade of granite "Avangard".
The AKFA group of companies announced the expansion of its activities - now it includes a granite plant with its own production in Uzbekistan. The plant's capacity is 1500 square meters per day. m of slab (granite billet), 1200 sq. m of measured tiles, 200 linear meters of curbs and 40 sq. m paving stones. Thus, the production volumes of the AKFA Stone plant are high enough to be considered one of the largest factories both in the domestic market and in the markets of neighboring countries. AKFA Stone mines granite in the gentlest way, cutting it out of the rock in solid blocks, which prevents damage and cracking of the material in the future.
The following works are carried out at the plant: cutting of granite blocks, water treatment, polishing, edge processing. All of them are performed on modern high-tech equipment. For example, cutting AKFA Stone helps to achieve millimeter accuracy in the execution of an order and provides an opportunity to complete any product according to the customer's specifications. The company provides, at the request of the client, both solid slabs and saws them according to the customer's specifications, which allows significant time savings during large-scale work and avoids low-quality handicraft work.
Processing stone with the WaterJet also saves time over more traditional methods, produces granite shine and reduces waste. And the waste that still remains is sent to the production of pressed bricks from granite chips with high strength, which is also sold by AKFA.
Granite belongs to natural formations of extraordinary hardness. Its hardness on the Mohs scale is 7 units, while the hardness of diamond is 10 units. Therefore, for centuries, granite structures do not collapse from rain, frost, winds, they can withstand temperatures of hundreds of degrees, the effects of acids and salts. Unlike marble, granite does not turn yellow, does not change color and does not depend on temperature changes.
Classic gray granite has been popular in the Uzbek market for more than a decade, and AKFA Stone offers its own kind of granite - "Avangard". It differs from the ubiquitous version in its lighter composition and the ability to obtain a large volume of products of the same shade. Not all varieties can boast of this - production is uneven and with a large order it is almost impossible to pick up slabs in one shade range. With Avangard, the customer will not face such problems.
AKFA Stone works with major global manufacturers, and those interested can get products from granite grades such as Black Galaxy, Absolute Black, Tan Brown, Baltic Brown, Steel Gray, Ocean Blue and Rosa-Pearl.
Granite is often used for special decoration in government or administrative buildings, but it is also widely used in construction:
in the facing of metro stations, train stations, ceremonial arches and squares;
when building stairs, fences and foundations;
in the arrangement of park paths and floors in ceremonial halls;
when creating decorative elements of landscape and interior design;
in the manufacture of fireplaces, window sills, countertops.
The AKFA group of companies has long established itself as a reliable manufacturer and partner. Therefore, the appearance of AKFA Stone meets the requirements of a market that needs large volumes of high quality products. AKFA Stone granite is safe to use and has a certificate confirming the absence of radiation, which is often characteristic of this material.
Back to the news